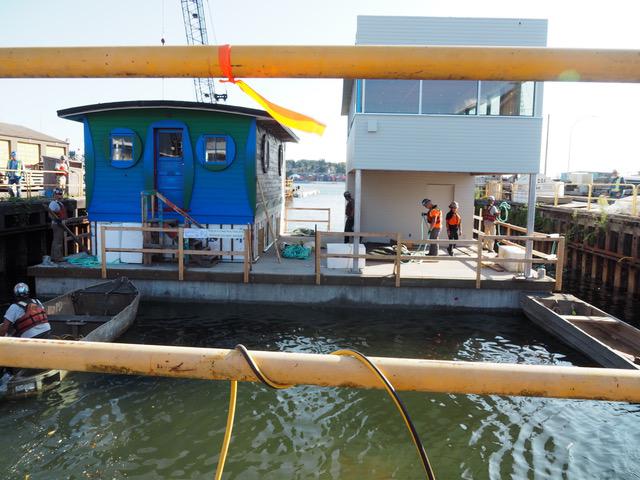 grunt gallery, Other Sights for Artists' Projects, and Creative Cultural Collaborations (C3) are thrilled to announce the public launch and first open house of the historic Blue Cabin Floating Artist Residency on August 25, 2019, at the Plaza of Nations in False Creek. This event is free and open to the public.

The August 25th public launch will include the announcement of the cabin's first full season of programming, as well as tours of the facility every 15 minutes from 11:30 a.m. to 5:30 p.m. for a maximum 20 people per tour on a first-come, first-served basis. It's a chance to see not only the cabin restored carefully by artists Jeremy and Sus Borsos, but the 500-square-foot deckhouse--an energy-efficient structure featuring off-the-grid water and power systems--designed by artist Germaine Koh and architect Marko Simcic last year.

As the inaugural program for the Blue Cabin Floating Artist Residency, "Skeins: Weaving on the Foreshore" is a celebration of Coast Salish weaving practices that have developed in these territories since time immemorial. As such, it is anchored by the participation of weavers from the three local nations: Debra Sparrow from Musqueam, Janice George and Buddy Joseph of Squamish, and Angela George from Squamish/ Tsleil-Waututh. "Skeins" also includes a residency with Australian Indigenous artist and activist Vicki Couzens (Gunditjmara) produced in partnership with the Australia Council for the Arts. Rooted in the local, and spanning the international, these artists bring a long history of culture, ceremony and community involvement, organizing and reclaiming, aesthetics and activism.

Situated in the unceded lands and waters of the Musqueam, Squamish and Tsleil-Waututh First Nations, the Blue Cabin offers a vantage point from which to consider the city differently. International in scope but deeply rooted in the histories and narratives of this place, the Blue Cabin offers a unique opportunity to learn, explore and engage on the water.

The Blue Cabin sat on the foreshore at Cates Park in North Vancouver since 1932, and has resisted ownership for nearly 100 years. It was home to maritime labourers and new families - and since the late 60s was a place of creative respite and subsistence for Vancouver artists Al Neil and Carole Itter. Slated for demolition in 2014, the Cabin was saved by a consortium of arts organizations and has since been transformed into a unique, floating artist residency that offers artists and the public a new, shifting view of the region and the ideas and histories that inform it.
thebluecabin.ca